Dental Services at Covington Dental Studio
Covington Dental Studio is committed to comprehensive dental care for families in Covington and neighboring Alcovy and Social Circle. 
Our team of dentists and hygienists provide a full range of dental services, all in-house. So whether you need to make a biannual checkup, purchase a customized teeth whitening kit at our office, or undergo dental surgery to restore function to your teeth, Covington Dental Studio is here to help. 
The care you need is accessible, affordable and best in class. Visit us today to get your family started on a dental care journey that lasts a lifetime.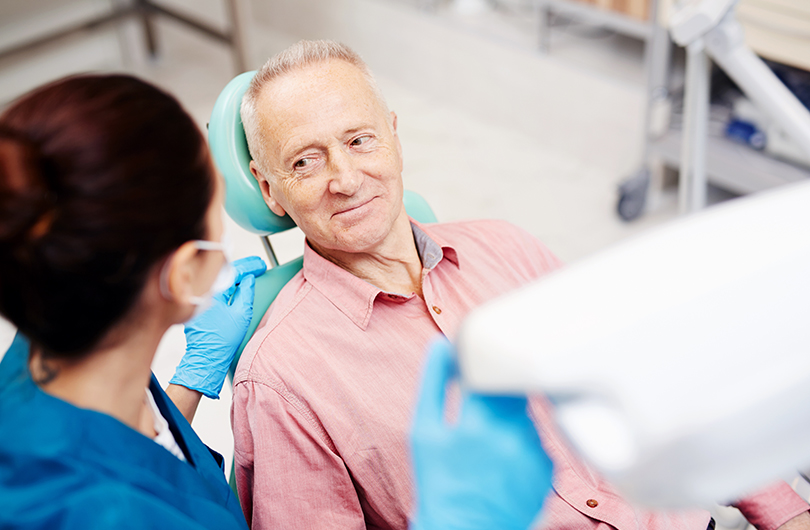 General Dentistry
Proper dental care is a long-term commitment and that's why it's so important to go somewhere you trust. Preventive care is one of the most important dental health services we offer and it involves routine maintenance to prevent future problems from occurring. General dentistry protects your oral health and teaches proper hygiene habits.
General Dentistry Services Include: Routine dental cleanings performed by one of our dental hygienists. During this visit, we make sure your teeth and gums are in top shape for both look and function. Any plaque that can't be reached by a toothbrush alone is removed, and then your teeth are polished and gums are flossed.
Individual exams include both a visual check and thorough physical assessment to look for problem areas and determine any necessary future treatments. 
During an exam, your dentist may take digital X-rays. Early detection screenings for cancer and gum disease also occur.
We recommend patients visit our office twice a year for cleanings and exams.
Learn More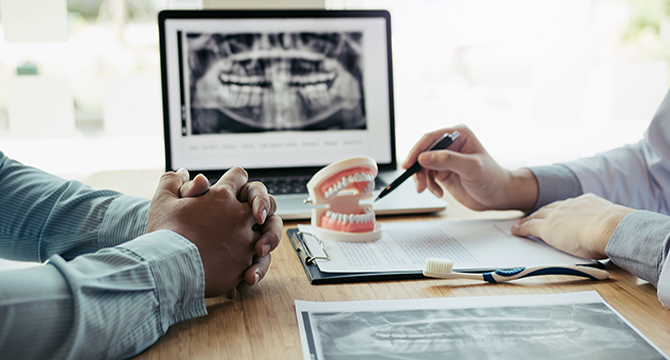 Cosmetic Dentistry
These dental services enhance your smile, whether it's for the mouth, teeth or gums. We want to help you look your best and the options available to you often benefit both cosmetic and restorative purposes. This means our work is both effective and aesthetically pleasing.
Cosmetic Dentistry Services Include: Teeth whitening is offered as both in-office visits and customizable kits you can purchase at our front desk. The in-office whitening process takes a little over one hour and can reach up to eight shades whiter in just one visit! The take-home kits, with whitening gel and custom trays, transform your smile in only two weeks.
Veneers are thin but strong layers of porcelain that cover the visible part of the tooth. They look natural and can correct dental issues like discoloration or damage.
Composite fillings are tooth-colored to blend in with your surrounding natural teeth. We shade match before using this material to fill the area where the decay was previously located.
Learn More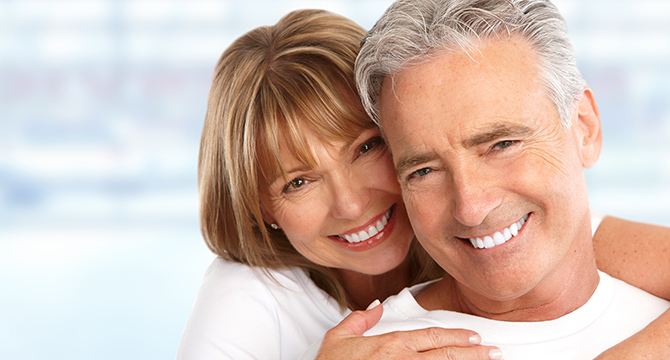 Restorative Dentistry
We have dentists in-house who have concentrated additional training in areas like oral surgery, sedation and endodontics. With this dental service, our team performs more extensive procedures to return function to the structure of the mouth.
Restorative Dentistry Services Include: Dental implants and bridges can replace a single tooth, multiple teeth, or most of the teeth. They are a permanent option for missing teeth.
Dentures are a removable prosthesis customized for your mouth. A set of dentures replaces missing teeth and restores function.
Root canal therapy removes the source of the pain caused by an infected tooth. When the pulp or root of a tooth becomes infected, a trained endodontist goes in and repairs the damaged area.
With these procedures, we assess and determine the right treatment plan for you. Our team is available to answer any questions throughout the process.
Schedule Your Appointment for Dental Services at Covington Dental Studio
The team at Covington Dental Studio builds relationships with our patients and educates our community, beginning with children dental services and offering care each year after, all the way into adulthood. For individuals and families in Covington, if you'd like to make an appointment, you can call us at (678) 567-4999 or fill out this form online. We look forward to hearing from you!